When Harry S. Truman decided not to run again for president in 1952, he said he'd had all he wanted of Washington and returned to his hometown of Independence, Missouri. Washington had probably had enough of Truman, too. His approval rating at the time was the lowest of any president in the 20th century -- even lower than Nixon's.

To the people of Independence, however, approval ratings meant nothing and they gathered by the thousands to welcome Truman home. And, although more than four decades have passed since his presidency, Kansas City is still wild about Harry, as evident in the impressive structures, historical sites, and artistic undertakings that bear his name.

The Harry S. Truman Library completed the first phase of a $10-million museum renovation in December 1995. The Truman Farm Home in Grandview, Missouri, once farmed by Truman himself, recently joined the Truman Home in Independence as part of the Harry S. Truman National Historic Site and opened to visitors in the spring of 1996. Independence residents celebrate "Truman Week" each year and present awards in his name.

In addition, "Truman," an HBO film which debuted in late 1995, chronicled the man, his achievements and his involvement with important leaders, including corrupt Kansas City political boss Tom Pendergast. The movie was shot in the Kansas City area and gave several area actors the chance to rub shoulders with Gary "Truman" Sinise.

"He had the perception of being a man of honesty and integrity and he spoke his mind," said Sam Rushay, an archivist at the Truman Library who has seen an increase in the number of scholars using the library to study Truman. "He was clearly a leader."

A trip to historic Independence, just minutes from the heart of Kansas City, offers insight into the life of, as one historian deemed him, "a most uncommon common man."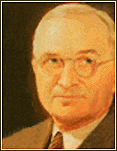 Although born in 1884 in Lamar, Missouri, Truman always claimed Independence as his own. His family moved to the hospitable town when he was 6. He graduated from Independence High School and headed for Kansas City where he worked as a bookkeeper. In 1906, at the request of his father, he went to work on his grandparents' farm located 20 miles south of Independence in Grandview. Now operated by the National Park Service, the Farm Home was where Truman spent nearly all of his waking hours for 11 years, farming the 600 acres of land.
Today, the Truman Farm consists of a second farm house (the original burned to the ground in 1893); a reconstructed smokehouse; the Grandview post office-turned-garage (Truman moved it to the farm to store his 1911 Stafford automobile); a restored box wagon once used on the farm; and several stone fence posts marking the original boundaries of the farm, plus other original and reconstructed buildings.
Working the family farm played a big part in defining Truman's character. Riding the plow day after day gave him "time to think," and, later, opportunities to influence politics as he was widely respected among area farmers. It was also as a farmer that Truman was reacquainted with Bess Wallace, a woman he had known since his Sunday school days. Their romance began when he volunteered to return a cake plate to the Wallace home at 219 North Delaware Street. Bess answered the door and a nine-year courtship ensued.
By early 1917 the couple was engaged, but Truman was soon off to war. His leadership abilities were tested as commander of Battery D, which Truman, according to one historian, called a "spirited group of Irishmen and German Catholics" from Kansas City. The members of Battery D later affectionately referred to him as "Captain Harry."
Upon his return to Independence in May 1919, Truman married Bess and they soon after moved into 219 North Delaware (another important part of the Truman National Historic Site), sharing the home with Bess' grandmother and mother. The stately Victorian home had gas fixtures and running water, and was considered a "mansion" by the standards of the time. Five years later, Margaret, the Trumans' only child, was born upstairs.
In 1922, one in a series of business ventures gone bad afforded Truman his break into politics. Known as a stylish dresser, Truman and a war buddy ran a haberdashery in Kansas City until postwar depression drove them out of business. It was about this time that Truman hooked up with Pendergast, the man running Jackson County politics. Pendergast and company called on Truman to run for Jackson County judge because of his good reputation. He received the Democratic nomination and took the oath in 1923. He lost re-election in 1924, but was again elected county judge in 1926.
While Pendergast was known for his "strong-arm" techniques and corruption, Truman realized the only way to work for the people of Jackson County was to work with the Pendergast machine. So, while his two fellow judges would shoot craps during court, Truman, according to one historian, would introduce legislation for Jackson County.
Truman's association with Pendergast, however, made him out to be a tool of the machine in the eyes of many.
"He was very conscious of that," Rushay said. "It was baggage he carried with him. He always tried to retain his independence and integrity and I think he did. Pendergast didn't pressure Truman into corruption. Truman gave the machine the appearance of uprightness and honesty."
Truman went on to the US Senate in 1935 and the vice presidency in 1944. He returned to Kansas City for Pendergast's funeral in 1945. Pendergast had served jail time for tax evasion and Truman was widely criticized for attending the services, but Truman simply contended Pendergast had been a friend.
Truman's political career climaxed when he took the presidential oath upon Franklin D. Roosevelt's death in April 1945. As the 33rd president of the United States, Truman endured many challenges, not the least of which was ending WWII. His decision to drop the atomic bomb helped shape postwar nuclear policy. He also is responsible for the creation of NATO, the National Security Council, and the CIA.
"All of these legacies are Truman's," Rushay said. "Truman represented an important time in American history. Anyone interested in the current state of the country really has to look to the Truman administration. America today was shaped by the institutions created and the decisions made by President Truman."
But even while he worked in Washington, Truman never forgot his roots. His heart never left Independence and he longed to return home to friends and family. (He referred to the White House as the "Great White Jail.") Truman's visits to 219 North Delaware became less frequent when he took office, yet the home became known as the "Summer White House." It was from the home, however, that President Truman gave a radio address on the night before the 1948 election, and it was there that he was informed of North Korea's invasion of South Korea in June 1950.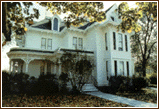 Ironically, while the Trumans always considered the "Summer White House" their real home (Truman wrote to Bess in 1913, "It seems like a hollow week if I don't arrive at 219 North Delaware at least one day in it."), they didn't actually own the home until they returned to Independence in 1953 and bought it from Bess' mother's estate. Today, it houses many invaluable family heirlooms: portraits of Truman, Bess and Margaret; Margaret's baby grand piano; Truman's expansive book collection; and Truman's own coat and hat, perched on a rack near the door.
Delaware Street also was home to relatives of the Trumans. The Wallace Family Compound includes two homes, built on lots behind the Truman home, once occupied by two of Bess' brothers and their families. Truman's cousins Nellie and Ethel Noland lived at 216 North Delaware, just across the street. These homes also are part of the Truman National Historic Site.
After leaving office, Truman returned to Independence and sought the anonymity of civilian life. His fans, however, constantly approached him for autographs and pictures. Truman always obliged.
In retirement, Truman devoted much of his time to establishing the presidential library, just minutes from his home. The Harry S. Truman Library, formally dedicated in 1957, was built entirely with private funds. It is operated by the National Archives and Records Administration.
With the purpose of preserving Truman's presidential papers and materials, the library has a collection of more than 14 million pages of manuscript material, 94,000 photographs, 63 miles of motion picture film, 700 hours of audio recordings, and more than 25,000 museum objects. Some of the library's audio and motion picture materials were used in the "Truman" movie.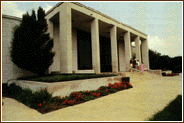 The highlight of the museum is the replica of the Oval Office. Careful effort was taken to recreate detail, right down to the flooring, wall color and texture, room furnishings, hidden doors, and the addition of a Dumont Essex television set (Truman was the first president to have a television in the White House). While not a completely accurate replica (the height is full scale, but the length and width are about seven-eighths scale), it was good enough for Truman, who called it "an exact copy." Truman's voice, recorded in 1963 and revised in 1964, welcomes visitors into the re-created Oval Office.
The focal point of another display area is a wooden sign with the boldly painted phrase, "The Buck Stops Here." This original artifact, a gift to Truman, sat on his desk in the Oval Office and served as a symbol of the accountability of his presidency.
In the Courtyard outside the library, Truman and Bess are buried side by side. The simple inscription on his ledger is indicative of the humble life he led even while holding the country's highest office.
The Truman Library Official Website