FLEMING PARK (V-17) Fleming Park, located fifteen minutes east of Kansas City, Missouri, is a 7,809 acre expanse containing Missouri Town 1855, a native hoofed animal enclosure and the Audubon Nature Center and Library. Three lakes call the park home, attracting boaters, fishermen and windsurfers. In addition, the park offers a swimming beach, picnic shelters, an archery range, hiking and camping. Winding through the grounds, visitors will find six trails which offer bluff-top and lakefront vistas. Fleming Park is located south of Hwy. 40 on Woods Chapel Road, Blue Springs, Missouri. For information call (816) 795-8200.


HODGE PARK (N-3) Located at 7000 N.E. Barry Rd., Kansas City, Missouri, Hodge Park allows visitors to take a step back in time as they view a realistic reconstruction of an 1850s Missouri village at Shoal Creek Living History Museum and visit a native animal enclosure. This beautiful park also features an 18-hole golf course, ball and soccer fields and particularly scenic picnic areas. For more information, call (816) 871-5600.


LOOSE MEMORIAL PARK (J-14) Deeded to the Board of Park Commissioners in 1927 by Mrs. Ella Clark Loose, Loose Memorial Park stands as a memorial to Ella's husband, Jacob Leander Loose, a philanthropist active in Kansas City's social and cultural circles. Today, a realistic, eight-foot-high bronze statue of Jacob Loose sets on a tiered pedestal in the northeast corner of the park. This beautiful, 74-acre park attracts visitors with the fragrant Laura Conyers Smith Municipal Rose Garden, scenic walking path and cool, relaxing wading pool. In addition, a small lake, which underwent restoration in 1993, inhabits the architecturally landscaped grounds along with a tranquil lily pond and duck island. Although the park does not contain athletic fields, as deeded by Mrs. Loose, the park offers picnic areas, playgrounds and a peaceful retreat into nature. Loose Park is located at 51st Street and Wornall Road, Kansas City, Missouri. For more information, call (816) 561-9710.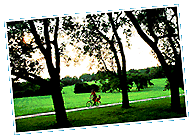 PENN VALLEY PARK (K-11) Home to the Liberty Memorial and its World War I Museum (both currently closed for renovation), this 176-acre park holds great historical significance. Developed in 1904 on land through which the Santa Fe Trail had passed, the grounds are home to commemorative statues such as The Scout, the Pioneer Mother Memorial and The Hiker. The park is also home to a 3.08-acre lake, providing an excellent retreat for a quiet day of fishing. With a fitness trail, tennis courts and ball fields, Penn Valley Park provides recreation for the whole family. Located at Pershing Road and Main Street, Kansas City, Missouri, the park is a popular spot for concerts and festivals during the summer months. For more information, call (816) 871-5600.

SHAWNEE MISSION PARK (D-16) Dedicated in 1964, this 1,250-acre park is a virtual mecca for sporting and nature enthusiasts. Located at 7900 Renner Road, Shawnee Mission, Kansas, Shawnee Mission Park is home to a scenic 150-acre lake, excellent for canoeing, sailing and fishing. Visitors can rent canoes and fishing and pedal boats. In addition, the park offers horseback and nature trails, an archery range, a swimming beach, a visitors center, marina and an outdoor theater where lively summer productions are held. This is a great area for letting dogs off of their leashes, kite flying and family picnics. As a popular birding spot, Shawnee Mission Park offers a very good network of trails where watchers can view bluebirds, hawks, Canada geese, sparrows and other woodland species. For more information, call (913) 831-3355.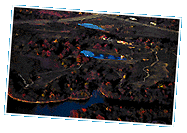 SWOPE PARK (M-16) With its massive expanse of 1,769 acres, which encompass the Kansas City Zoo and Sprint IMAX Theatre as well as the 7,795-seat Starlight Theatre, Swope Park is the second-largest city park in the United States. Constructed in 1896 through a generous donation of land by millionaire Thomas H. Swope and dedicated on June 25, 1898, Swope Park still stands today as the largest city park in the Kansas City parks system. Located at Swope Parkway and Meyer Blvd., Kansas City, Missouri, Swope Park is home to two golf courses; the Lakeside Nature Center; sporting areas for softball, soccer, rugby, Frisbee and more; horseback-riding trails; picnic and fishing areas; and a day camp for kids. In addition, hiking enthusiasts can venture along the hill south of the Lake of the Woods for a scenic hiking adventure. For more information, call (816) 871-5600.

WYANDOTTE COUNTY LAKE PARK Not far from town, Wyandotte County Lake Park offers a remote, serene refuge for recreation enthusiasts everywhere. Constructed in 1935, the park's 1,500 acres include a 330-acre lake with marina, boat rentals, and a lakeside boathouse designed by the National Park Service. Picnic shelters, tennis courts and horseback trails are scattered throughout the beautiful rolling, wooded hills providing fun and entertainment for the whole family. The Pierson Community Center is also located inside the park area and offers activities for children and adults alike. In addition, the park has been noted by the Burrough's Audubon Society as a particularly nice spot for birding in the fall and winter as watchers are likely to see gulls, waterfowl, sparrows, eagles and other raptors. The park is located at 91st Street and Leavenworth Road, Kansas City, Kansas. For more information, call (913) 299-0550.
BLUE SPRINGS LAKE (V-15) One of three lakes located on the grounds of Fleming Park, Blue Springs Lake is the only one available for unlimited powerboating. With a full-service marina providing rental boats, concessions, tackle, bait and boat slip rental, people flock to this 725-acre water world. Blue Springs Lake is located south of Hwy. 40 on Woods Chapel Road, Blue Springs, Missouri. For more information, call (816) 795-1112.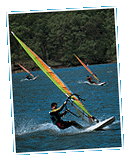 LAKE JACOMO (V-16) At 970 acres, Lake Jacomo is one of Kansas City's prime boating spots. Located on the grounds of Fleming Park, east of I-435 on Woods Chapel Road, Lee's Summit, Missouri, Lake Jacomo offers many amenities for eager water navigators. The lake includes a full-service marina, concessions, lakeside gasoline pumps and fishing bait and tackle. In addition, boat and canoe rental is available. For a leisurely afternoon in the sun, visitors can rent two- and four-seat pedal boats and tour the water at their own pace or relax at the beach. For more information, call (816) 795-8888.

LAKE OLATHE A prime lake for fishing, Lake Olathe is located at 625 Lakeshore Drive, Olathe, Kansas. Fishing enthusiasts flock to the 170 acre lake in search of catfish, crappie, bass and even trout. The area near the fishing pier is a favorite casting spot as it is sown annually with Christmas trees, providing new cover and nesting areas for schools of fish. For more information, call (913) 764-6163.

LONGVIEW LAKE (P-20) A popular destination for all kinds of outdoor enthusiasts, Longview Lake sets between Kansas City and Grandview, Missouri. Covering 930 acres, the lake offers ample opportunities for power boaters, water-skiers, jet-skiers and pontoon boaters. The lake's marina provides supplies, gasoline, tackle, bait and an opportunity to rent a variety of water vessels. However, if you don't have a fishing pole, you can still feed the fish as the carp that school around the marina love to be fed. For the nature lovers, Longview Lake offers a 6-mile wooded trail where bicyclists, hikers, joggers and walkers can move at their own pace while enjoying everything mother nature has to offer. Longview Lake is located south of I-470 on Raytown Road, Kansas City, Missouri. For more information, call (816) 966-8976.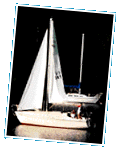 SMITHVILLE LAKE Located northeast of Smithville, Missouri on U.S. 169 and Hwy. 92, this gigantic 7,200 acre lake is a water lover's paradise. With two full-service marinas offering boat rentals, equipment and dining facilities, the lake is a virtual hotspot for summertime recreation. Families come here to enjoy the relatively uncrowded lake with its easy access via five multilane boat-launch ramps, sandy swimming beaches and the Paradise Pointe golf course. For more information, call (816) 532-0803.