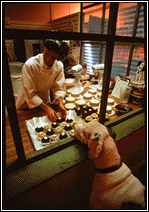 The perennial end-all, be-all of the Kansas City shopping scene is the Country Club Plaza, located in the blocks surrounding 48th Street and Nichols Road in Kansas City, Missouri. Having celebrated its 75th anniversary in 1997, The Plaza is the oldest shopping center in the country and attracts 10 million tourists each year. Along with some of the country's chic-est fashions and major labels, shoppers will find true Kansas City originals. More than 180 stores fill this 14-block area to make it a one-of-a-kind shopping destination. Seville on the Plaza, an enclosed four-floor structure at 500 Nichols Road, offers nearly 30 specialty stores and dining and entertainment options as well.

But the architecture on The Plaza is as much a treat as the merchants' wares. Modeled after Seville, Spain, one of Kansas City's sister cities, the area features magnificent Spanish tile, piazzas, and terra cotta rooftops. The Plaza also did more than its share to earn Kansas City the title "City of Fountains." Perched on nearly every corner, each fountain is steeped in history and has its own story to tell. In addition, a stroll along the recently completed lighted walkway beside Brush Creek, which runs along Ward Parkway, makes for a romantic nightcap after dinner. The Plaza also is known for its exceptional holiday lighting display, illuminated each Thanksgiving through mid-January.

Touted as "The Plaza of the South" before its opening in the spring of 1996, Town Center Plaza has proven to be a strong complement to the Kansas City landmark. Town Center, located at 119th Street and Roe Avenue in Leawood, Kansas, is an open-air shopping center done in white-washed brick, which lends it a village marketplace feel. Ultimately, it will include 750,000 square feet of stores and restaurants. As such, curbside parking is easy to come by. Many shops at Town Center Plaza are nationally known, including several upscale specialty stores.

Across the street from Town Center Plaza in Overland Park, Kansas, is Hawthorne Plaza, long known as the most upscale center in all of Johnson County. Featuring a large number of local specialty stores, Hawthorne frequently boasts that when customers come in and ask to speak to the owner, chances are good that they already are. As such, the center has a friendly feel to complement its sophisticated profile. Fine fashions, footwear, and jewelry are just a sampling of the wares available at Hawthorne Plaza. The open-air center is split up so that several smaller buildings are across from the main structure thereby condensing the area shoppers have to cover on their own two feet.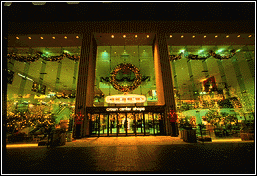 About 50 specialty stores representing national chains as well as several local merchants on three carpeted levels can be found at Crown Center Shops. At the southern edge of Downtown near Grand Avenue and Pershing Road, Crown Center offers gourmet kitchen accessories, unique fashions, and full salon service, among other unique shopping opportunities. The Crown Center area, an urban redevelopment project of Hallmark Cards, also features two world-class hotels, first-rate dining, live theater and cinema. The only public outdoor skating rink in Kansas City, the Crown Center Ice Terrace skating rink is open November-March. Crown Center also is known for its breathtaking holiday decorations--including the Mayor's Christmas Tree, the largest in the nation. In addition, performances in the courtyard of the first floor of the shops are frequent this time of year. While such activity adds to the festive atmosphere during the holidays, shopping at Crown Center is typically a quiet, relatively relaxing event.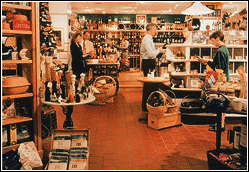 The same can be said for the shops in Brookside, just east of 63rd Street and Wornall Road. White buildings with brown trim coat the facade of about 70 shops and restaurants. The Brookside neighborhood is a popular one in Kansas City and the shopping here is one good reason. Locally owned specialty stores include everything from a creaky, wooden-floored five and dime to a designer women's clothier. The shops in Brookside are walkable and enjoyable not only for the exercise, but also for the quaint English atmosphere permeating the area.

Shoppers will discover that self-powered transportation is the best kind to make their way around Westport. The renovated historic Westport district encompasses the area surrounding Westport Road and Pennsylvania Avenue, just a few blocks from The Plaza. Known as a hot spot by night and a cultural mecca for all ages by day, the area is a medley of funky cafes and nightclubs and charming boutiques. The largest concentration of stores is located in the Westport Marketplace horseshoe, but shops stretch up and down the cobblestones of Pennsylvania, and run the length of Westport Road all the way to Main Street. A walk among the shops of Westport will reveal an array of distinctive fashions and footwear for men and women; handcrafted jewelry; contemporary art, furniture, and accessories for the home; and unique book and record stores. Westport is more laid back than The Plaza, but that's where its charm lies.
Like Westport, shopping along the newly emerging 39th Street enclave, stretching from State Line Road to Southwest Trafficway, definitely has its own appeal. Nestled among grand old apartment buildings and bungalows are restaurants and shops that are likely to invoke a sense of nostalgia. Vintage clothing, used Levi's, and crystal necklaces are typical of this district, but antiques and handcrafted furniture aren't absent either. Shoppers walking the area will get their exercise, as stores are a little spread out, but the atmosphere found outside is as much a part of the 39th Street shopping experience as are the goods for sale.


Major Area Malls
Bannister Mall -- I-435 & Bannister Road, east Kansas City, Missouri. More than 190 stores on two levels. Anchored by Dillard's, Jones Store Co., Sears, and J.C. Penney. Hours: Mon-Sat 10am-9pm and Sun noon-6pm.
The Great Mall of the Great Plains -- I-35 at K-7 & 151st Street, Olathe, Kansas. More than 100 stores. Anchored by Dillard's Clearance, Oshman's SuperSports USA, Jeepers! (for kids), Burlington Coat Factory, and Dickinson Theatres. Hours: Mon-Sat 10am-9pm and Sun noon-5:30pm.
Independence Center -- Just west of I-70 in Independence, Missouri. More than 150 stores. Anchored by Dillard's, The Jones Store Co., and Sears. Hours: Mon-Sat 10am-9pm and Sun noon-6pm.
Metro North Mall -- Highway 169 & Barry Road, near KCI Airport, Kansas City, Missouri. More than 120 stores. Anchored by Montgomery Ward, J.C. Penney, Dillard's, and The Jones Store Co. Hours: Mon-Sat 10am-9pm and Sun noon-6pm.
Mission Center Mall -- Johnson Drive & Roe Avenue, Mission, Kansas. About 50 stores on two levels. Covered parking. Anchored by large Dillard's stores on both ends. Hours: Mon-Sat 10am-9pm and Sun noon-6pm.
Oak Park Mall -- 95th Street & Quivira Road, Overland Park, Kansas. Largest mall in the metro area with 170 stores and restaurants. Anchored by Dillard's, Nordstrom's, The Jones Store and J.C. Penney. Hours: Mon-Sat 10am-9pm and Sun noon-6pm.
Ward Parkway Shopping Center -- Ward Parkway, between 85th & 89th streets, Kansas City, Missouri. More than 80 stores; 22 movie screens. Anchored by Dillard's. Hours: Mon-Sat 10am-9pm and Sun noon-5:30pm.