Say "taste of Kansas City" and most folks think steaks and barbecue. But to get the full flavor of the area's ethnic and historical heritage, the city Market is a must-see on any itinerary.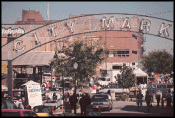 Tucked inside a larger area known as the River Market, the City Market is an expansive outdoor marketplace located north of Downtown at fifth & Walnut, just off the banks of the Missouri river. This renovated historic area was essentially the seed from which Kansas City - originally know as the Town of Kansas - got its start. Pioneers in the mid-1800s began their overland journeys westward from this jumping off point. Legends like Jesse James, Doc Holiday, and Wild Bill Hickock were part of the scene, as they played poker at saloons and bars on Main Street running through the area.
While much of the City Market's Wild West feel has dissipated over the years, this lively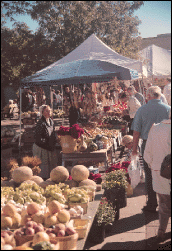 outdoor area retains much of its colorful character. Organically grown peaches picked fresh the night before, colorful works by "undiscovered" artists, unique ethnic cuisine, swingin' nightclubs, a museum with treasure from a sunken steamboat - they're all part of the city Market's year-round, day-or-night appeal.

The City Market is home to one of the most unusual museums aroung. THE ARABIA STEAMBOAT MUSEUM houses the recovered cargo of the "Great White Arabia," which sank in the river more than 140 years ago. Opened in 1991 after a major excavation of artifacts, the museum offers the largest peek anywhere at pre-Civil War "treasure" - china, hardware, cookware, jewelry, and food. The museum is open daily. Admission is $9.75 for adults, $9.25 for seniors, $4.75 for children ages 4-12, and a Group rate of 30 or more is $8.75 each.

Originally built in 1939 and renovated again in 1990, buildings in the City Market offer enough shopping and dining opportunities - galleries, boutiques, ethnic shops, unique restaurants - to stave off even hard-core cases of hunger and boredom. No stale, chain-store feel here - shopping this area means strolling among open-air markets. Just about anything can be found at the shops in the City Market. A number of merchants, hand-picked for quality, offer ethnic wares - from African apparel to authentic Mexican pottery - lending an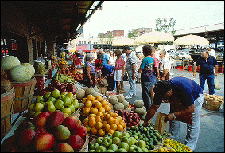 international flair to the heartland. Whether searching for souvenirs from here or abroad or spices to scent the kitchen, one will not go home empty-handed. Shops are open daily.

Open Wednesday, Saturday, and Sunday is the City Market's open-air, year-round (weather permitting) FARMER'S MARKET, the largest of any in six states with home-grown produce, herbs, plants, and baked goods galore. Farmers with permanent reservations occupy all 144 of the market's island stalls. Combined with other outdoor vendors, this number easily exceeds 200 during busy summer months, when visitors can number around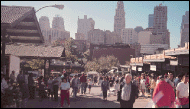 35,000 daily. Fortunately, there's plenty of shade and admission is free. Save your money for shopping.
If you're searching for the "pick of the produce," it's best to arrive early - around 7am (9am on Wednesdays and Sundays). But if you're looking for bargains, go later in the day around 2pm or 3pm, when vendors are anxious to sell and willing to discount their goods. Area artists will add a new dimension to the city Market this year with SUNDAY ART FAIRS. Dozens of emerging "artrepeneurs" will offer up some of the best affordable art and crafts, jewelry, painting, pottery, and prints. Free workshops and demonstrations presented by the local chapter of Young Audiences, a national organization providing arts education for kids, are also held Sundays for families and children.
When all the shopping makes you hungry, let your taste buds be your guide. Try Vietnamese fare at Hein Vuong Restaurant, and stop by Hung Vuong Mart to buy the ingredients to recreate the meal at home. Or sample the Italian menu at CASCONE'S. WINSLOW'S CITY MARKET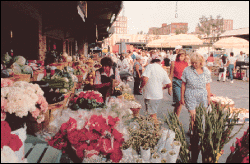 BARBECUE offers barbecue and blues. CLUB 427, a sophisticated steak and pasta restaurant, entertains nightly with some of the city's best jazz musicians.
Special events at the City Market this summer include Mercado August 9; Italo-American Summer Music Concert Series in August; Alligator Festival August 22 and 23; and the Scandinavian Festival August 30. Wednesdays are senior days at the City Market, as HealthNet sponsors wellness workshops, information booths and screenings, games, and themed events such as Safety Day, Grandkid's Day, and Golf Day.