It may not be what Ike and Tina had in mind, but "rollin' on the river" aboard one of Kansas City's riverboat casinos is an experience that's sure to float your boat. Lit up like a little Las Vegas, the Missouri River just north of Downtown has become the site of some of the area's hottest entertainment spots, drawing demographically diverse crowds. With four riverboats, Kansas City offers a number of opportunities to court Lady Luck.
Each of the boats offers free admission. Most have cruise times every two hours from 8am-3am as well as numerous dining choices and virtually nonstop entertainment.
An expansive land-based pavilion is the pride of the Argosy Riverside Casino (Interstate 635 & Highway 9), the area's first riverboat casino. With a Mediterranean seaport theme, the pavilion's colorful decor includes imported mosaic tile flooring, a three-story, glass-domed rotunda, and petrified palm trees.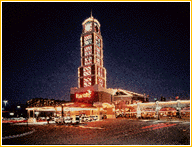 The pavilion is also home to gift kiosks and Argosy's three full-service eateries. Fine diners will find the four-star Constellations accommodating while jazz and blues fans will appreciate the casual atmosphere of the Eclipse Bar & Grill. The Sundial Cafe offers buffet dining for 260 people.
Patrons can bet on the Argosy IV riverboat for loads of gaming fun. Three casino decks offer 955 slot machines and 60 live table games, including blackjack, craps, and Caribbean stud, among others. For more information, call 1-800-270-7711.
Gamers can double their pleasure at Harrah's North Kansas City Casino (Highway 210 & Chouteau Trafficway), the area's first double vessel riverboat. Harrah's includes the triple-decker North Star Casino, a duplicate of an 1800s sternwheeler, and the Mardi Gras Casino. More than 1,009 slot and video poker machines and 81 gaming tables can be found on the North Star, while the Mardi Gras offers 895 slot machines and 45 gaming tables. With two boats, Harrah's boards passengers every hour from 8am-4am. If you're new to gaming, visit Harrah's complimentary "Learn To Play" area in the pavilion. Call 1-800-HARRAHS.
Harrah's pavilion presents a choice of fine fare from three full-service restaurants. One Eyed Jack's features seafood and Kansas City steaks while The Fresh Market Square Buffet offers cuisine from around the world. At Winning Streaks Stadium Cafe sports fans can enjoy a menu of American favorites. The Harrah's complex also includes a 200-room hotel.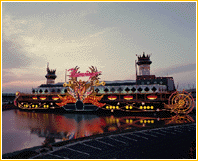 The only casino on the south side of the Missouri River and possibly the one with the best roadside visibility, the Flamingo Hilton Casino Kansas City (Interstate 35 & Front Street) is lit up inside and out with neon and flashing lights.
From an upper level vantage point, visitors get a bird's-eye view of the gaming action below. The casino offers several table games and more than 1,000 slot machines. The Flamingo keeps patrons pumpin' the slots full of pocket change with a Jeep Wrangler, Chrysler Sebring convertible, and a pair of Harleys as potential grand prizes.
For gamers seeking sustenance, the CityScape Market features the East Side Deli, Heartland Pasta Factory, KC Roasters Rotisserie Chicken, Winslow's Barbecue and All-American Burgers, and The Market Feast and Salad Bar. The Tailgate Bar and Lounge offers nightly entertainment and a menu of selections from the grill. Call 1-800-947-8711.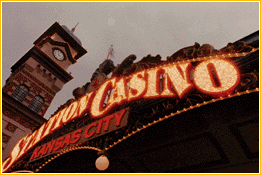 Ameristar Casino Kansas City (Interstate 435 & Highway 210), has size on its side. Billed as the granddaddy of them all, the Ameristar facility will boast two casinos totaling 140,000 square feet of gaming space. Gaming opportunities will include more than 3,000 slot and video poker machines and 190 gaming tables. Other features will include a concert arena and a 200-room hotel. An 18-screen theater is also in the works.
Two longtime Kansas City favorites will be included in Ameristar's dining and entertainment lineup. The nationally known Arthur Bryant's Barbeque, the barbecue choice of presidents Carter and Truman, has opened a second location at Ameristar. An additional six bars and lounges and 12 restaurants will round out Ameristar's bill of fare.
Streetscape, Ameristar's Victorian-themed entertainment area, will feature a dramatic fountain and a sky mural painted on the expanse above cobblestone streets. Call toll free 1-888-440-7700.